I've been sitting on a couple of articles, waiting for the perfect time to respond.  Actually, no, there is no perfect time….I've been waiting to figure out how to formulate a response to two very different articles about small children and theatre.
Here is the gist in a nutshell:
Article 1 – why spend $15 to take your toddler to a play when you can blow bubbles at home?
Article 2 – toddlers are awesome audience members; theatre for early childhood is an expanding art form
Both published in highly read and acclaimed publications.
Not all Plays are Equal
If you really want to find a "children's play" to go to, you can find one.  But a lot of it is not appropriately created.  (Thus the reference to blowing bubbles at home.) They treat your children as second best citizens who should be entertained by weird slapstick, bad lip-synching, and bored actors.  But, there is also a lot of really great children's theatre.  In fact, there is more and more fantastic theatre geared to children under 5 and performed by actors who are trained to work with the youngest audience members and their caregivers.  Young children are respected as audience members who appreciate good theatre as much as the next adult (including lap-sitters, toddlers following actors, and 4 year olds talking back).  This is all part of the magic, fun, benefits, and opportunities of theatre created especially for the youngest among us.
Dot & Ziggy
Dot & Ziggy came on to my radar sometime last week.  It was one of those moments that I felt suddenly sad that I no longer live in Chicago.  It's a city brimming with new theatre.  On top of that, Dot & Ziggy is being staged a Victory Gardens Theatre that holds a special place in my heart as a small, comfortable space that offered me a work-study home so I could take classes along with my first Chicago audition (which I bombed, by the way) and many more auditions after that.
Here's a review by a Chicago parent. This is the most telling,
For me, the truest test was if this interactive play could captivate my 22 month old for any length of time.
We think toddlers have no attention span.  We think they're not ready for imaginative play.  We think they're still babies who are unexpectedly mobile.  In fact, toddlers, when treated as respected audience members who have their own likes, dislikes, fears, joys, and expectations, are engaged and focused individuals.
Obviously, I'm not in a position to go see Dot & Ziggy myself.  But if you're in the area, take your child.  And then tell me how it went.  And, like ParentSphere who wrote about her experience: expect to have fun, but plan on being flexible.  You may be able to sit through a play you don't love while you're dreaming of dinner just to see what happens, but your toddler won't.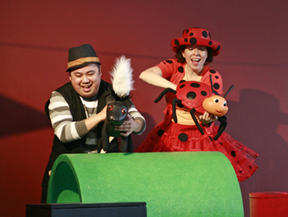 As for those articles I mentioned earlier, no worries, I'll get there eventually and I promise you won't be disappointed.